This article will provide you with a wealth of information about the Shetland Sheepdog, sheltie for short, and the frequent bathing and grooming techniques associated with this particular breed, along with a comprehensive list of the best shampoo for shelties available in the market today.
Originally bred as herding dogs in the Shetland Islands of Scotland, shelties have become one of the most popular household pets in the world due to their loving nature, intelligence, and willingness to please their owners. In a research conducted by Dr.
Stanley Coren, an expert on animal intelligence, the Shetland Sheepdog ranked 6th out of 138 breeds tested due to their uncanny ability to pick up new commands in as little time as possible. That, coupled with their agility, is also why shelties are excellent at performance events, excelling in their size group.
Moving on, since shelties have a dense, furry double coat, they require regular grooming and periodic bathing sessions to keep their fur and skin looking slick and healthy.
Sheltie owners often struggle with the maintenance of their dogs' coats, which tends to shed a lot, and unfortunately, that is also why this beautiful breed of dog is often abandoned or given away to rescue groups.
But do not be dismayed, for, in this article, we have put together a list of ten of the best shampoo for shelties that will make your life as a pet owner much more comfortable and trouble-free! But before that, let us do a quick overview of the bathing and grooming practices specific to the Shetland Sheepdog.
How Often Should I Bathe My Dog?
The cool thing about shelties is that they have a natural disposition to keep themselves clean and away from dirty, smelly stuff. As such, bathing a sheltie is only required when they start to smell or have been rolling around in the mud, which they tend to shy away from.
Like most dog breeds, shelties will often lick themselves clean, and their natural coat oils will provide a healthy balance of nutrients for their skin and fur.
However, grooming is a different matter entirely. As mentioned earlier, shelties shed frequently and in copious amounts. Regular grooming is mandatory if you want to keep your dog tangle-free and looking its best.
What is the Best Shampoo for Shelties?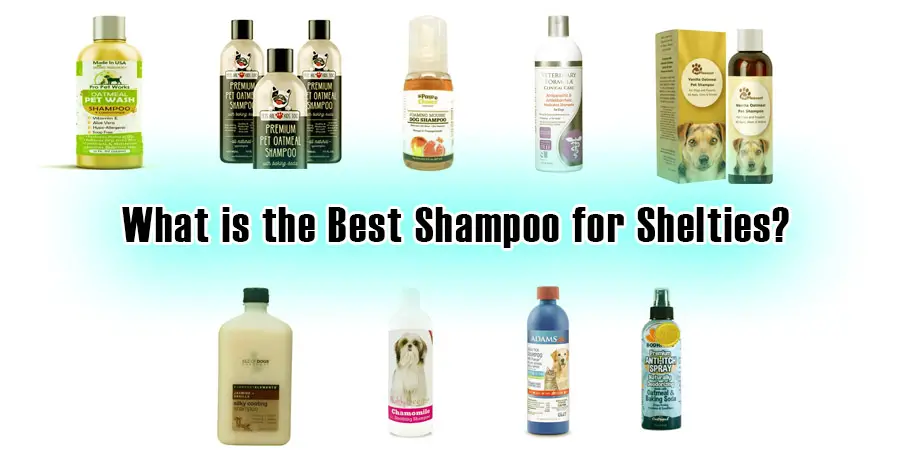 There are a lot of different products out there in the market, and it can be tedious and time-consuming to search through them all to pick out the one that best suits your dog.
To that effect, it is best if you choose a shampoo catered explicitly to longhaired breeds like shelties. Also, if your dog is suffering from any skin condition or has dry, flaky, or sensitive skin, you need to consider that as well. Furthermore, different shampoos have unique properties and features that might appeal to you as a consumer. There are shampoos for dry, sensitive skin, shampoos with all-natural ingredients, and shampoos that help with deshedding.
It all depends on your preference as a buyer and figuring out which product would perfectly meet your dog's requirements.
Review Of Best Shampoo for Shelties
Pro Pet Works Dog Shampoo + Conditioner
Pro Pet Works Organic All Natural 5 in 1 Oatmeal Dog Shampoo & Conditioner-Made in USA for Dandruff Allergies & Itchy Dry Sensitive Skin-Puppy Grooming for Smelly Dogs & Cats-Soap & Sulfate Free 17oz
as of September 24, 2023 1:10 AM
Pros
All-natural ingredients with eco-friendly packaging
Excellent for dry, itchy, flaky, sensitive or allergic skin
Can also be used on ferrets, rabbits, and cats
pH-balanced for sensitives skin
Cons
Everyone may not favor the cherry scent
The liquid is not concentrated, needs a large amount for single-use
Arguably the best oatmeal shampoo, the Pro Pet Works hypoallergenic shampoo is made from all-natural ingredients that treat dry and sensitive skin. Unique ingredients include Aloe Vera, almond oil, and vitamins A, D & E.
Moreover, the container is 100% biodegradable and made with recycled materials, and the ingredients are non-toxic, non-alcoholic, and contain zero animal by-products. It truly is an eco-friendly solution that fulfills all of your pet's immediate needs.
Pet Oatmeal Anti-Itch Shampoo & Conditioner
Pet Oatmeal Anti-Itch Shampoo & Conditioner in One! Smelly Puppy Dog & Cat Wash! Relief for Allergies, Itchy, Dry, Irritated Skin!! Smells Amazing! (1 btl)
as of September 24, 2023 1:10 AM
Pros
Anti-itch, anti-fungal & anti-bacterial properties
Tear-free, chemical-free, and cruelty-free product
Prevents allergies, dandruff, and removes fleas
Parts of the proceeds are donated to help dogs with cancer
Cons
Price is higher-than-average
Reports of the anti-itch feature not being as effective as advertised
Another choice for those of you whose pets have sensitive or itchy skin, the Pet Oatmeal Anti-itch shampoo has quite the similar features as our first entry: hypoallergenic formula, all-natural ingredients, and instant relief from irritating skin conditions.
What sets it apart from other brands and makes it one of the best shampoos for dogs are the anti-fungal and anti-bacterial properties which help fight minor ailments such as yeast and common allergies. It also gets rid of dandruff and fleas, all the while lathering your dog with a light yet long-lasting oatmeal fragrance that is pleasing but not too overpowering.
Dry Dog Shampoo by Paw Choice
Particular Paws Dry Shampoo for Dogs – Waterless Foaming Mousse – Mango & Pomegranate – 8oz
as of September 24, 2023 1:10 AM
Pros
All-natural ingredients. No sulfates or harsh chemicals
Ease-of-use. It can be applied anywhere and at any time
Economically friendly
Cons
The smell might be too overstimulating
Derived mainly from coconut extract, the best feature of the dry dog shampoo is that it can be used anywhere and anytime, on dry and wet coats alike. It is infused with a mango and pomegranate smell is not only pleasing to the nose but also removes the pet's odor instead of just masking it.
What makes this product great is the water-less, rinse-free solution that doesn't irritate your dog and can be applied easily and on the go. Of course, as with most pet shampoos, the dry dog shampoo contains all-natural ingredients that do not leave behind any waste.
Veterinary Formula Clinical Care Shampoo
Veterinary Formula Clinical Care Antiparasitic and Antiseborrheic Medicated Shampoo for Dogs, 16 Fluid Ounce
as of September 24, 2023 1:10 AM
Pros
Added protection from mange, bacterial, fungal, and parasitic infections
Gives fast results, saving you a visit to the vet
Oatmeal and Allantoin provide moisture healing
Made from premium, high-quality materials
Cons
Very expensive when compared to other shampoos
It has a medicated smell which might be too overpowering
Not recommended for cats
As the name implies, this clinically designed shampoo is made up of medicated, veterinary-grade ingredients. The effects of which might make this the best dog shampoo for itchy skin in our list.
Made from coal tar, salicylic acid, and micronized sulfur, this product boasts anti-parasitic and anti-seborrheic properties, which not only fight infection and dandruff but also relieve common skin problems such as inflamed scalp, rashes, and greasy, itchy or flaky skin.
Moreover, the Veterinary Formula is pH-balanced for puppies as young as 12 weeks old, and it does not have any industrial dyes, paraben, or soap. The solution is fast-acting, and your dog will feel near-instant relief from all the conditions mentioned above.
Colloidal Oatmeal Dog Shampoo
Pros
Natural lavender, jojoba, and coconut oils provide healing and protection
Very gentle and calming for your dog, it makes bathing easier
100% money-back guarantee
Tear-free, Paraben-free, and Cruelty-free
Repels odor and off-putting smells
Cons
It may give some side-effect some allergy-prone dogs
It does not remove existing skin conditions such as dermatitis
It may give some side-effect some allergy-prone dogs
If you're looking for the best natural dog shampoo that is gentle on your pet and calming to the nerves, then look no further than the Colloidal Oatmeal Dog shampoo. It is enhanced with lavender essential oil, which gives a soothing effect and soothes even the most anxious dogs.
These therapeutic effects combine with jojoba and coconut oil that combats skin irritation and allergies and provide healing and nourishment to your dog's coat.
Furthermore, it removes the dog's odor and unwanted smells, all the while relieving common skin conditions and irritants so that your companion feels fresh and revitalized. If you're still not convinced, the product has a 100% money-back guarantee!
Natural Dog Shampoo by Friends Forever
Pros
Anti-fungal, Anti-bacterial, and Anti-itch
A light, long-lasting scent that removes the odor
Tear-free and clears dandruff from the coat
Hypoallergenic treat hot spots and dry, flaky skin
It can be used on cats as well
Cons
It only comes in a large 16oz bottle
Owners have complained of rashes and swollen skin
This all-natural, hypoallergenic, coconut-based formula is the best shampoo for dry skin. It deals with bacteria, fungus, itchiness, yeast, fleas, and allergies. It is infused with a light green apple aroma with chamomile extract that is long-lasting and not too heavy on the nose.
Additional features include a tear-free, dandruff-free solution that can even be applied on the nose and paws. I
f you have a dog that keeps scratching at his skin and has multiple hot spots on his fur. We recommend you use this shampoo as it provides instant relief and further moisturizes the skin to protect it from dandruff and fleas. It comes in a 16oz bottle and is moderately priced, along with a 100% money-back guarantee.
Isle of Dogs Everyday Shampoo
Isle of Dogs – Everyday Natural Luxury Silky Oatmeal Shampoo – Jasmine + Vanilla – Sulfate & Paraben Free Formula – Dog Shampoo With Oatmeal & Jojoba Oil For A Silky Coat – 16 Oz, (821-16)
as of September 24, 2023 1:10 AM
Pros
Perfect for thick, heavy coats
Gives a soft, silky smooth, and fabulous look to your pet
Extremely economical price
All-in-one shampoo, conditioner, and detangling agent
Extremely economical price
Cons
Fragrance might be too overstimulating for some
Does not lather as well due to sulfate-free ingredients
A shampoo, conditioner, and detangler were all rolled into one. The Isle of Dogs shampoo is ideal for longhaired dogs with dense undercoats like shelties. It cleans your dog's coat of all dirt and dander and gives the coat a soft, silky, and lustrous appearance.
The Isle of Dogs is a trusted brand and has a long track record in the industry of providing the best, premium quality products, whether they are shampoos, treats, foods, or supplements. The everyday shampoo comes with a signature floral fragrance that you can't find in any other product.
It also contains hydrating agents like coco glucoside, glycerin, aloe vera, panthenol, and aloe juice to strengthen the pup's hair. If you're not going to buy it for its benefits, buy it just for the scent alone, as it is amazing and will leave your house smelling like a garden.
Healthy Breeds Soothing Shampoo & Conditioner
Healthy Breeds Miniature Schnauzer Chamomile Soothing Dog Shampoo 8 oz
as of September 24, 2023 1:10 AM
Pros
Cleans, conditions, and moistures your dog's coat
It can be used regularly without removing natural oils
pH-balanced, soap-free, and hypoallergenic
100% satisfaction guarantee
Cons
A bit pricey compared to other brands
Needs time to take effect
A new addition to the Healthy Breeds family of products, this oatmeal shampoo consists of chamomile, cactus, calendula, fir needle oil, and aloe vera as its main ingredients.
It is a 2-in-1 formula that not only conditions your dog's coat but also doubles as a cleansing and moisturizing agent. It can be used frequently as it does not strip away the natural oils on your pet's skin and can be used in conjunction with topical flea control products.
Adams Plus Flea and Tick Shampoo with Precor
Adams Plus Flea & Tick Shampoo with Precor for Cats, Kittens, Dogs & Puppies Over 12 Weeks Of Age Sensitive Skin Flea Treatment | Kills Adult Fleas, Flea Eggs, Ticks, and Lice
as of September 24, 2023 1:10 AM
Pros
Effectively kills all fleas, ticks, and lice
Prevents further growth of fleas and ticks for up to 28 days
Provides comfort for sensitive and irritated skin
Well-known brand with a good reputation
Provides comfort for sensitive and irritated skin
Cons
Not tear-free needs to be kept away from the pet's face.
You guessed it! The Adams Plus shampoo kills all lice, fleas, ticks, and even eggs and larvae. It goes one step further with an insect growth regulator that prevents flea development for up to 28 days.
Moreover, the shampoo consists of oatmeal, lanolin, soothing aloe, and coconut extract that work to soothe irritated or sensitive skin, providing instant relief from previous ailments.
Adams is a staple in the flea and tick control market, and the company is a trusted supplier of these types of products, so you know you're getting the best value for money out of this shampoo. It's also safe to use on puppies and cats 12 weeks and older. The price is very low-cost, as well.
Bodhi Hypoallergenic Soothing Shampoo for Dogs
Pros
Amazon's choice
All-natural and eco-friendly
It can be used on cats, rabbits, and horses, as well
100% money-back guarantee
Cons
It might trigger a reaction if your dog is allergic to gluten, grain, or wheat
Perhaps the most popular and the best dog shampoo for dry skin, Bodhi's all-natural and hypoallergenic shampoo is a must-have for those owners whose dogs are constantly scratching themselves and have any number of common skin conditions that need to be dealt with quickly and easily.
This product is truly an example of eco-friendly industrial practices with its recyclable packaging and lack of alcohol, paraben, SLS, detergents, or harmful chemicals. It comes with a light and apple-scented fragrance combined with baking soda, which offers anti-fungal, anti-bacterial, anti-septic, and anti-inflammatory properties. Ingredients used are Oat proteins, aloe vera, coconut, and vitamins A, D, and E.