In this guide, we'll talk about the Dachshund dog breed, the best grooming practices that make for a stress-free experience, and the best brush for long-haired dachshunds available in the market today.
The Dachshund originated in Germany in the late 15th century. They were bred specifically as scent hound dogs for hunting small game such as rabbits and moles, which are tunneling animals and, therefore, hard to catch.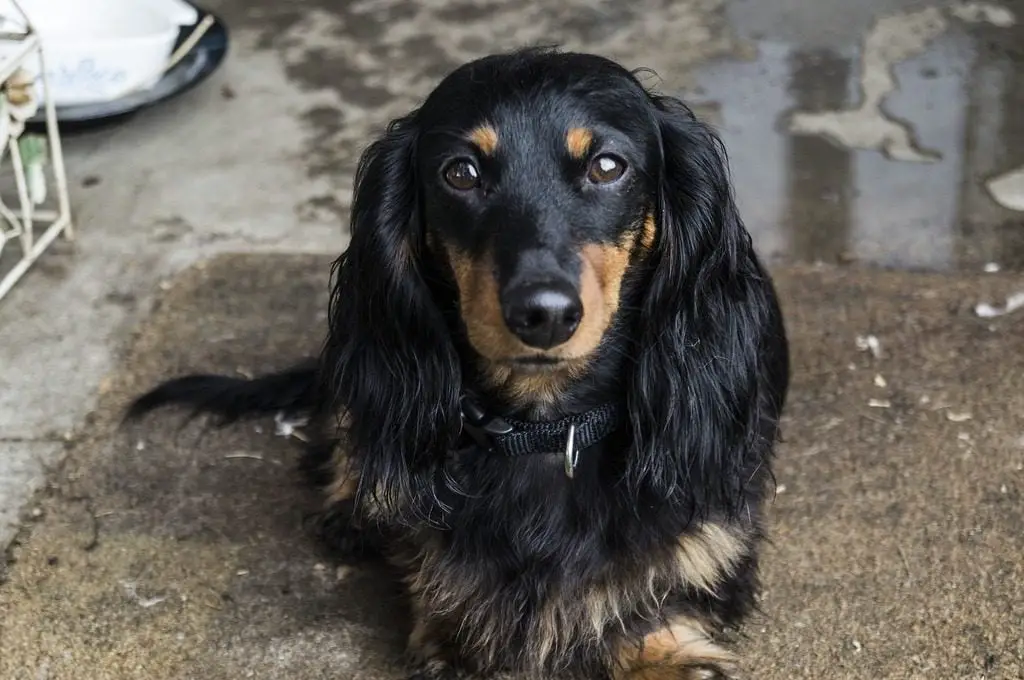 With its short stature and deft agility, the dachshund was the perfect hunting dog for catching such elusive prey. Nowadays, the dachshund has made its place as an affectionate, friendly, and well-adapted household pet.
They're an excellent choice for first-time owners due to the many benefits associated with this breed: easy-to-train, low-maintenance, affable personality, and polite nature.
The longhaired variant, though, is unique in the sense that it requires regular grooming sessions and constant upkeep. But do not be dismayed, as we have the perfect solution to your problem.
Through meticulous research and personal experience, we have compiled a list of the best deshedding tools for your longhaired dachshund.
What Are Our Criteria for Determining the Best Brush for Long-Haired Dachshund?
Dachshunds with long and overflowing hair require a strict method of grooming that every responsible owner should adhere to. It is recommended that you use three types of the best dog brushes: the standard bristle brush, a slicker brush, and a long-toothed comb.
Whereas the bristle brush is used to clean out all the dust and dirt that is bound to accumulate in a longhaired dog breed, the primary purpose of the slicker brush is to remove unruly mats and dead or loose hair.
Finally, the long-toothed comb can be used as a remedy for those dire situations where the mats are coiled too tightly and refuse to be unraveled with simple means. If a long-toothed comb doesn't do the job, then no other brush can!
A pro tip when grooming your dachshund is to brush parallel to the hair growth and not in the opposite direction, as it is sure to cause discomfort. The ideal time for grooming would be after bathing your dog and leaving the hair to dry out.
As mentioned earlier, longhaired Dachshunds require more amount of effort in maintaining their coat and hygiene. As such, it is advisable to bathe your dog once every two days and schedule a grooming session once a week. 
However, you need not be dismayed! If done correctly, bathing and grooming your dog can be a fun and anticipatory event for both you and the little wiener.
You should start mandatory grooming at an early age so that the dog becomes accustomed to the ritual, and then, with proper care and patience, he may eventually come to love these little moments of intimacy that create a bonding experience between owner and pet.
Now that we've talked a little about the process of grooming, let us discuss the tools required for this task, specifically the best brushes for long-haired dachshund that makes the aforementioned process more straightforward and stress-free.
In our list, we describe ten different brands of products, with each having a unique quality that makes them ideal for the Dachshund dog breed.
Review Of Best Brush for Long-Haired Dachshund
The Furminator for Dogs
FURminator De-Shedding Tool for Large Dogs with Long Hair
as of October 31, 2023 1:25 AM
Pros
Effectively reaches through the topcoat to remove loose hair and undercoat
The ergonomic, perpendicular design makes it easy to use and efficient
It comes in multiple sizes and styles to suit all dog sizes and coat types
Cons
A bit too expensive compared to other brands
It might damage or irritate the skin if not used correctly
Due to high popularity, cheap replicas have flooded the market
The first product on our list and possibly the best dog brush for shedding fur, the Furminator is a tried-and-tested brush for every dog owner with a canine that is in molting season.
Oh, how we all dread it; that time of the year when your lovable companion starts shedding off vast amounts of hair all over the house. And that is why the Furminator is the perfect solution for every longhaired breed.
Hertzko Self Cleaning Slicker Brush
Hertzko Self-Cleaning Slicker Brush for Dogs, Cats – The Ultimate Dog Brush for Shedding Hair, Fur – Comb for Grooming Long Haired & Short Haired Dogs, Cats, Rabbits & More, Deshedding Tool, Cat Brush
as of October 31, 2023 1:25 AM
Pros
Wide head for easy brushing
Removes loose hair, dirt, dander, knots, and tangles with ease
Affordable
Cons
It has been known to break after continuous use
Unlike other brushed, pins do not have a coating for added protection
The Hertzko slicker brush combines comfort and affordability with an alethically pleasing dual-tone color format, which makes it a top contender for the best dog hair brush.
It has a sturdy, anti-slip grip and a self-cleaning attribute at the push of a button. The Hertzko slicker brush comes in small and medium sizes and is ideal for all types of coats. Truly a multi-purpose product that gives you the best value for money.
Pet Grooming Brush by Pet Neat
Pet Neat Self-Cleaning Slicker Brush for Dog/Cat, Pet Grooming Easy to Remove loose undercoat Brush-Pet Massage Tool for Pets
as of October 31, 2023 1:25 AM
Pros
Simple yet practical design, built to last
Reasonably priced
The replaceable handle and sturdy design make it cost-effective
Cons
The sharp blade might be dangerous if not used properly
Trims excess fur but doesn't do much to reduce loose/dead hair
The Pet Grooming Brush is a staple in the industry with its sturdy, ergonomic grip and high-quality materials. Furthermore, it comes with a safety cover for the blade and a detachable handle for cleaning out the hair that collects inside it.
Equipped with a standard, rubberized handle, and stainless-steel blades, the grooming brush by Pet Neat is built to last, and that is why the company also offers a lifetime guarantee.
If you're looking for a one-time purchase that gets the job done quickly and efficiently, this is the product for you!
BV Pet Brush
BV Dog Brush and Cat Brush, Pet Grooming Comb, 2 Sided Bristle and Pin for Long and Short Hair Dog, Removing Shedding Hair
as of October 31, 2023 1:25 AM
Pros
Double-sided brush for detangling as well as cleaning the dog's hair
Ergonomic, anti-slip handle
1-year moneyback warranty
Extremely low-priced
Cons
The bristle side is too stiff and not suitable for sensitive skin
Another double-sided brush on our list is the BV Pet brush, which comes with round-tipped metal pins on one side and soft, nestled bristles on the other. This allows for easy dematting of the undercoat as well as the removal of dirt and loose hair on the outer layer.
It also has an eyelet for convenient storage and a ventilation hole, which allows the pins to conform to the dog's body for maximum coverage.
To round out its useful traits, the BV Pet brush can also be used to remove pet hair from carpets and furniture for a complete cleaning solution.
Pet Portal Self-Cleaning Slicker Brush
The Pet Portal Self Cleaning Dog Brush for Shedding Slicker Brush Cat Long Haired Pet Brush Grooming Deshedding Supplies – Small Pets
as of October 31, 2023 1:25 AM
Pros
Usable on both long and short coats, dogs and cats alike
Special self-cleaning mechanism
Durable and functional design
Top pick for vets, professional groomers, etc.
5-year money-back guarantee
Cons
Rigid edges might be uncomfortable for shorthaired dogs
Larger-than-average size might make the implement unwieldy
Now here's a glimpse into innovative technology. As its name implies, the slicker brush by Pet Portal has a smart self-cleaning element that allows you to effortlessly wipe away the accumulated hair on the brush after you're done grooming your dog.
It comes with a button on the back that, when pushed, retracts all the slicker pins in the front-back into its head, leaving nothing but a clump of hair that can then be removed easily by hand.
Additionally, it has stainless-steel, ultra-fine pins that gradually work their way through tangles and knots to loosen them and make for a pleasant grooming experience.
All of this definitely qualifies the slicker brush by Pet Portal to be highlighted as one of the best brushes for longhaired dogs.
AtEase Accents Natural Bamboo Brush
AtEase Accents Natural Bamboo Deshedding Slicker Brush – for Matted Short and Long Haired Dogs Cats Gentle Easy Grooming
as of October 31, 2023 1:25 AM
Pros
High hardness rating
Multi-purpose brush that takes care of all your pet's hair-related problems
Made from eco-friendly and environmentally sustainable components
100% static-free
If you care about leaving behind a positive carbon footprint and making responsible choices as a consumer, then the AtEase bamboo brush is the right product for you.
It is an eco-friendly brush made from bamboo stalks and boasts a unique dual-sided design that prevents irritation or static. Moreover, this rather inexpensive tool is multifunctional in nature; it can be used for grooming, dematting, de-shedding, and cleaning dirt off your dog or cat.
Being that bamboo is one of the hardest types of wood; It is only natural that this bamboo brush is the type of product that will last you a lifetime. If you're still unsure, AtEase provides a 100% money-back guarantee.
Hertzko Soft Pet Brush
Hertzko Soft Pet Brush With Pins For Dogs, Cats – The Ultimate Dog Brush, Remove Fur, Loose Hair – Comb For Grooming Long Haired & Short Haired Dogs, Cats, Rabbits & More, Deshedding Tool, Cat Brush
as of October 31, 2023 1:25 AM
Pros
Practical design, comfort grip, thumb rest
Works on dogs and cats, both large and small-sized
Affordable cost
Gentle pins with rounded ends make for a smooth comb-out
Cons
Pins are too fragile and may bend with frequent use
Difficult to clean after use
Not as effective as other metal-toothed brushes
Another Hertzko product, this brush, is built for comfort. Its soft bristles have rounded ends so as not to damage or irritate your dog's skin, and therefore, it can be used over paws, ears, or any other sensitive areas without worry.
It comes with the usual combo of ergonomic design, an anti-slip handle, and a 30-day money-back guarantee. While the other products on this list might have some distinguishable characteristics that set them apart from the competition, the Hertzko Soft Pet brush prides itself on its simplicity and functionality.
If you're feeling overwhelmed by having to consider the number of different brands and features. Go for this as it is the best brush for long-haired dogs that complete the task in an uncomplicated manner.
Paw Brothers Extra Long Hard Pin Slicker Brush
Ryan's Pet Supplies Paw Brothers Extra Long Pin Flat Slicker Brush for Dogs, Large
as of October 31, 2023 1:25 AM
Pros
Extra-long bristles that excel at grooming longhaired pets
Highly economical
Works best on dogs with dense, lengthy coats
Cons
Hard to remove hair from the long pins
Might irritate or damage the skin due to thin, un-coated pin edges
As you can infer from the name, the Paw Brothers Slicker brush has long, 1" angled metal pins perfect for dogs with long coats, like the longhaired dachshund, for instance! This product caters specifically to pets with thick, overflowing fur, and it specializes in weeding out deep-rooted knots and tangles.
The extra-long pins penetrate the base of the skin and succeed in detangling even the unruliest mats.
Siwa Mary Dog Brush
Pros
Finely bent wires angled for maximum efficacy
Aesthetically pleasing and stylish design
Economically priced
A new addition to the market, the Siwa Mary brush has some of the usual features we see in pet brushes, including the self-cleaning push-button attribute, easy-to-use non-slip handle, and a 2-month replacement guarantee.
On top of all that, the brush has finely bent wires that allow for effortless grooming, and It keeps the collected hair in one place, preventing it from dispersing into the air and causing a mess in your home.
The Siwa mary brush also has a reinforced handle with an extended length, preventing wrist pain or tiredness from repeated brushing. 
Oster Combo Brush for Dogs
Oster Animal Care for Your Dog Canine Combo Brush
as of October 31, 2023 1:25 AM
Pros
Appropriate for all coat types and dog breeds
Very inexpensive
Regular brushing stimulates natural oil production and blood circulation
Cons
Pins might fall out after continual use
Not as effective as other noteworthy entries on this list
The Oster Combo brush for dogs is possibly the cheapest product out there. But don't let that fool you into believing that there is a compromise on quality.
This brush comes with a dual-sided "combo" of round-tipped pins on one side and dense bristles on the other.
The pins loosen tangles and dead fur while the bristles remove said loose hair and any dirt or dander that might make your canine look anything less than stunning!
In conclusion, when picking the best dog brush for a long-haired dachshund, it is advisable to keep in mind the required features that work well for a dog with a bulky coat.
You could also buy more than one brush and use them in conjunction so that you may benefit from the distinctive traits of each one.