In the past, cats were seen as a symbol of independence and self-reliance. However, in recent years there has been a shift in perception, and now many people believe that cats make better pets than dogs because they are easier to care for.
Cats are popular pets because they can be left alone at home for long periods of time without any supervision.
Despite the benefits, there are some drawbacks to owning multiple pets. For example, you may have to visit the vet more often, and certain breeds may not get along with other animals inside your house.
In addition, sometimes cats might develop some unusual behavior like going under the bed. For this reason, today, I will discuss an easy process on how to stop a cat from going under the bed. I will also discuss some relevant information that will be highly useful for you as a cat owner.
Reasons Behind Your Cat Going Under the Bed
There could be various reasons why your cat goes under the bed. It could be something as simple as wanting to hide from another pet or person in the house. Or, it could be because they witnessed something frightening like thunderstorms, fireworks, or were startled by some other incident.
When cats experience stress, they will often attempt to soothe their feelings with whatever method is familiar, and that brings them comfort – even if it's hiding under the bed!
Sadness:
Your cat knows when you're feeling down and will do everything they can to make you feel better. This often happens around holidays, birthdays, or when you move to a new home. The fact that they can sense your emotions and want to comfort you makes them even more special.
Attention:
If your cat has been repeatedly granted access or pushed under the bed by another pet or person, he may now associate it as an easy way to find love and/or food!
We all know that cats tend to like dark and quiet places where we don't often look. In fact, most cats enjoy hiding when they're feeling especially sensitive or vulnerable. Therefore, when something new happens in their lives (new home, owner's illness, death of a friend or relative), they'll naturally want someplace safe – which will probably mean your bedroom wardrobe (or even more likely, under the bed).
Cats love to be near us. One of the most beloved cat sanctuary spots is under the bed – where they can get a good look at our activities, feel close yet remain unseen, and also have quick access to a food source (leftovers from dinner or fallen crumbs on the floor) and an opportunity for playtime with any unsuspecting feet that may accidentally step on them!
How to Stop a Cat From Going Under the Bed?
When you're not home, cats can get bored. So many times, they'll choose to sleep under your bed or pillow because it's a nice, soft place!
As cat owners, let's help them get rid of this habit by using some simple tactics. The following steps work for most cases when you wonder how to stop a cat from going under the bed.
Step # 1 – Introduce cardboard boxes
If your cat has been sleeping under the bed because the comforter feels more like home than any other place, then try putting large cardboard boxes in its vicinity. Cats love to climb and investigate inside these things, and soon enough, they will leave the blanket alone. Also, remember to keep toys on top of the box so that it attracts them more!
Step # 2 – Isolate the comforter
Cats are very territorial animals, and they can get stressed out when a newcomer overlaps its territory. This is especially true for cats, as they know that your bed belongs to them and no one else! The best way to deter this behavior is by isolating the blanket from other areas of the room. If you have an enclosed cat tree or a large dog house, it can also be used during nighttime.
Step # 3 – Spread lavender essential oil
If step number 1 wasn't effective, then try a few drops of lavender essential oil on the blanket before you go to bed. Cats dislike this smell and tend to stay away from it so that it may work as a repellent!
Step # 4 – Let your cat sleep with you
If none of the above steps work, it is time to spend some quality time with your cat. Cats love attention from their owners and if you are away during most parts of the day, try spending an hour or two in bed with them. Sometimes pets can get depressed when they don't have much attention, which may cause destructive behavior. Just remember not to overdo it!
Step # 5 – Make food available during night time
Cats usually tend to go around food sources at night so if they have been going under the bed, then try leaving a bowl of water or tuna fish beside where he sleeps. This will stop him from going out at night as he will be too busy to eat!
Step # 6 – Consider other things
If none of the above steps work then, it is time to consider other options. Most times, cats go under a bed during nighttime because they want to catch rats or mice that come into your house.
If these animals have found their way inside your home, it is important to take some serious actions. Otherwise, you may not see much of your cat around. Cats do not like going outside in most cases, and if they feel insecure wherever they are, this behavior will continue all the while you are asleep! Mice and rats can also bite or scratch them, so it's better for everyone if you get rid of them.
How to Use Under the Bed Blockers for Cats?
Then there is a simple way to keep the kitty out of the bedroom: under-the-bed blockers. These are fabric covers that fit under your mattress and prevent access from both sides of the bed.
There are several kinds of these, including some with elastic straps to anchor them in place, others that slip over your box springs, and even those made specifically for twin beds only so you don't have to worry about cutting them to size. And they come in many colors to match your bedding too!
How to Block Under the Bed Without Using a Duct Tape?
Unfortunately, for some people, the under-the-bed blocker is not a very attractive solution. The fabric can get bunched up and create a lumpy bed. Other people have resorted to painting theirs or even sewing them into place. Those are better options than having to duct tape your cat's favorite spot! 
Another option if you're looking for something that blends right in, like a decorative piece of furniture, is the Scat Mat. These are a great option if you've exhausted all other methods to keep the kitty out from under the bed and are considering using an excruciating method like duct tape.
How Do Scat Mats Work?
They work by sending out an electrical charge strong enough to deter kitty but not strong enough to hurt her. The mats come in three sizes, small, medium, and large. They're all about the size of a mouse pad and stick onto your floor with either double-sided tape or command strips (both included). If you have something blocking your cats, such as furniture legs or some other object under there, you'll want to remove that first before placing the mat down.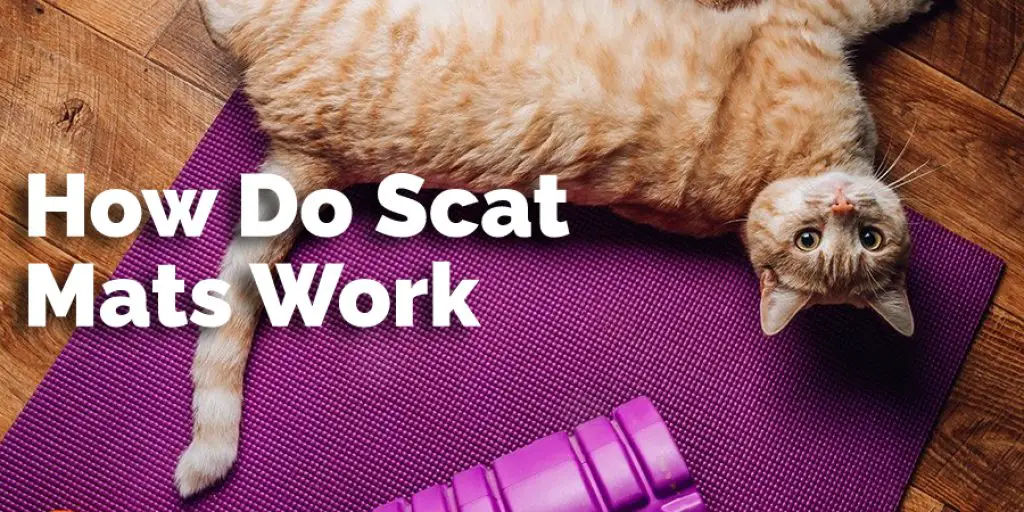 Will Catnip Furniture Help Divert Cat's Minds From Going Under the Bed?
The cats are the animal that consumes catnip more than other animals. However, they are not the only ones who love to be cuddle with a pillow stuffed with catnip or playing with toys. Surprisingly, many cats also like to go under the bed.
If your cat is one of them and you want to stop him from doing so, there is an easy solution for this. Try making some cool-looking feline furniture such as a hammock bed which can be hung on the wall underneath your bed. That will make your kitty feel like he's sleeping in his own den and away from prying eyes. Besides, it would help if you also bought some attractive toys to play together with him. It is because when he's away from you, he will play with the toys instead of making any other mischiefs. When your cat is distracted with playing and has been diverted from his target, there is no way he'll want to enter underneath your bed anymore.
Final Thoughts
As you can see, there are many ways to stop a cat from going under the bed, and really, all of them require patience. Patience is one of your best friends when it comes to training your pet because, at times, it will make you feel like giving up.
Your pet may go through periods where they just don't want to listen or follow directions, so during that time; you have to be patient with them and help them through those tough times. I hope that this article has been beneficial for determining how to stop a cat from going under the bed. Thank you, and have a good day!
You may read also: How to Tell If Your Cat Is Bored