Are you the proud new owner of a furry friend? Congratulations! You'll want to make sure your pup is happy and cozy in their new home, which means providing them with the perfect bed.
Whether you have an 8-week-old puppy or a mature dog, this guide will help you find the best doggy bed for your four-legged pal. 
What Kind of Bed Should I Get For My Puppy?
Selecting the ideal bed for your puppy involves some thought. Most importantly, pick something that will be comfortable and supportive for them. Like all dogs, puppies need a space that's comfy enough to sleep in and a spot to lounge during the day.
There are many different kinds of dog beds out there, such as memory foam, orthopedic and plush.
Memory foam beds are great for puppies who may get joint pain or arthritis later in life.
Orthopedic beds offer extra support, while plush ones are ideal for pups who love to snuggle up.
Plus, always make sure the size is large enough to grow into and that the materials used are non-toxic and safe. It's also beneficial if the bed is durable and easy to clean.
Top 6 Best Dog Beds for Puppies
Are you looking for something super comfy and cozy for your pup? Check out these 6 amazing dog beds that you can find on Amazon! Your furry friend will be extra relaxed and happy.
This super comfy bed is crafted with ultra-soft memory foam that keeps your pup's joints nice and snuggly! It's simple to maintain, too—just toss it in the washing machine for an easy clean!
BarksBar Snuggly Sleeper Large Gray Diamond Orthopedic Dog Bed with Solid Orthopedic Foam, Soft Cotton Bolster, and Ultra Soft Plush Sleeping Space – 40 x 30 Inches
as of September 17, 2023 1:57 AM
Pros
The orthopedic design provides excellent support for joints, machine washable cover, and high-density foam ensures durability.
Cons
Customers have noted that the bed is not as soft and comfortable as they anticipated.
This comfy dog bed is made with a thick, 4-inch memory foam base, and comes in lots of snazzy sizes and colors so your pup can find the perfect fit. It's perfect for doggies who like to curl up or stretch out – now that's something to bark about!
PetFusion Ultimate Dog Bed, Orthopedic Memory Foam, Multiple Sizes/Colors, Medium Firmness Pillow, Waterproof Liner, YKK Zippers, Breathable 35% Cotton Cover, 1yr. Warranty
as of September 17, 2023 1:57 AM
Pros
Made with high-density memory foam, machine washable cover, and non-slip bottom keeps the bed in place.
Cons
Some customers report that the bed is too firm for their liking
Give your pup a snuggly spot to rest with this cozy bed! It comes in plenty of sizes and colors, so you can find the perfect options for your furry friend. With its special design, this bed provides complete comfort and support for all their lounging and napping needs!
K&H PET PRODUCTS Ortho Bolster Sleeper Orthopedic Dog Bed Brown Small 20 Inches
as of September 17, 2023 1:57 AM
Pros
This cover is easily removable and conveniently machine washable, making its maintenance a breeze. The fabric of this cover is soft yet also provides plenty of support for maximum comfort.
Cons
Certain customers have shared feedback revealing that the longevity of the bed may not meet expectations.
This ultra comfortable bed is constructed with a premium memory foam base, making it an ideal choice for pups suffering from joint issues or arthritis. Plus, it's conveniently machine washable and super easy to keep clean – the perfect combination of comfort and practicality!
Milliard Quilted Padded Orthopedic Dog Bed, Egg Crate Foam with Plush Pillow Top Washable Cover (41 inches x 27 inches x 4 inches)
as of September 17, 2023 1:57 AM
Pros
The orthopedic design provides excellent support for joints, a machine washable cover, and comes in various sizes to fit any breed.
Cons
Some customers have found that the bed is not as comfortable or soft as anticipated.
This oh-so-squishy and cozy bed is just the thing for puppies with joint issues or painful arthritis. And bonus, it's easy to clean— you can even throw it into the washing machine!
Big Barker 7" Pillow Top Orthopedic Dog Bed for Large and Extra Large Breed Dogs (Sleek Edition) (Large (48 x 30 x 7), Charcoal Gray)
as of September 17, 2023 1:57 AM
Pros
It features supportive, high-density foam that won't lose its shape, a conveniently machine-washable cover, and is available in various sizes for every breed – this is the perfect solution for your pet!
Cons
Many customers have found that the bed is not as comfortable as anticipated. To ensure a more restful sleeping experience, we suggest adding an extra mattress topper or cushion for added comfort.
Snuggle up with your pup in this cozy bed! Soft and plush, it's the perfect place for puppies to curl up in comfort. It's also a breeze to keep clean—simply throw it in the washing machine when needed!
K&H PET PRODUCTS Original Bolster Pet Cot Elevated Pet Bed with Removable Bolsters Charcoal/Black Mesh Large 30 X 42 X 7 Inches
as of September 17, 2023 1:57 AM
Pros
This cushion offers a supportive and cozy fit, plus its machine-washable cover makes it a breeze to keep clean. Ideal for effortless maintenance!
Cons
Some customers have expressed dissatisfaction with the lack of durability in the bed's construction.
Should Puppies Have a Dog Bed?
Absolutely! A bed for your pup is a must-have item for comfort and security. It also helps in teaching them good habits and understanding the proper place to rest and take a nap. Plus, it can assist you in potty training and other useful commands!
Do Puppies Like Hard or Soft Beds?
To find out your puppy's favorite bed, let them experiment! Some pups may like a cozy and cushioned one, while others might like a tougher, more supportive bed. Let them try a bunch of beds and see which one makes them the happiest!
Should a Puppy Have a Bed as Well as a Crate?
It's always best to give your puppy both a cozy bed and a secure crate! The crate is the perfect spot for your pup to catch some zzz's at night, while their bed is the ideal place to relax and get comfy during the day. Give your furry friend an enjoyable sleep experience!
Where Should a Puppy Sleep the First Night?
The first night can be exciting and a bit nerve-wracking for you and your pup!
If you've got a crate, it's a great idea to put it in the bedroom so your puppy can feel comfy and safe in their new home.
Or, if you'd like, your pup can cuddle up in a bed next to yours for the first night—it's totally up to you!
Should My 8-Week-Old Puppy Sleep in My Bed?
It might be really tempting to let your adorable puppy sleep in your bed, but it's not a good idea. Even though puppies are so cute, their sharp teeth and claws can end up hurting you.
Plus, letting them snuggle up in your bed can cause them to get too attached and develop some unhelpful habits. So, if you want to keep both yourself and your pup safe and happy, stick to having them sleep in their own special spot!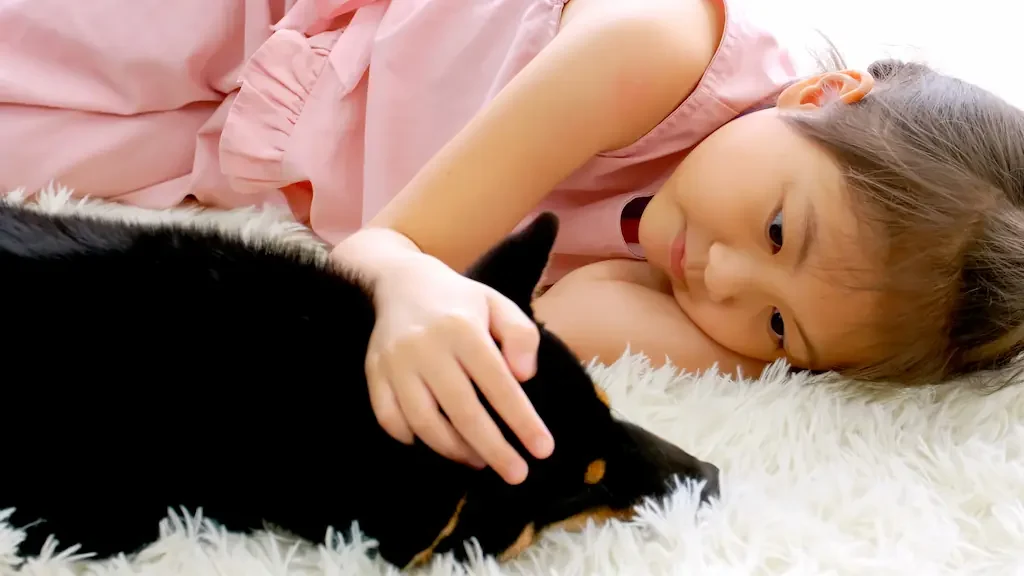 How Do I Choose a Puppy Bed?
When it comes to picking the perfect puppy bed, take a few things into consideration! 
Comfort and support are key – if your pup has joint problems or arthritis, you'll want to make sure their bed is extra comfy and supportive. 
Make sure to get a size that accommodates for growth, too. 
And don't forget about materials! A snuggly yet durable bed made out of safe and non-toxic materials is exactly what your pup needs. 
Lastly, consider your pup's individual preferences – some pups like sinking into a soft plush bed, while others prefer something more supportive. The perfect puppy bed awaits!
What Age Should a Puppy Get a Bed?
It's a good idea to get your puppy its own bed right away! Even if they're only eight weeks old, your pup will love having somewhere cozy and safe to sleep and relax. Plus, it can make potty training super easy and simple. So, don't wait – set up the perfect bed for your furry friend today!
At What Age Should I Buy My Puppy a Bed?
It's time to get your pup a snuggly bed! Even if they're just 8 weeks old, it's important to give them a comfy spot of their own where they can feel happy and safe. Why not pick out a cozy one today?
To Wrap up
Finding the purrrfect pup pad is super important! You need to think about how comfy and supportive it is, plus whether the materials are strong and won't wear down quickly.
Is your fur buddy small or extra big?
Make sure their bed fits them right so they can sleep like a snoozing kitten. Whether you pick a memory foam bed, an orthopedic bed, or a plush bed – whatever makes your pup happy will make you happier too!